Archive 2007 - 2010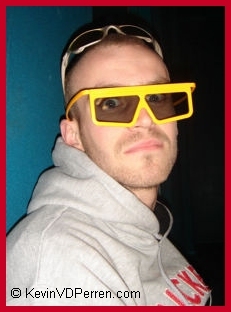 **May 2010**
May 14: The competitive skating season has ended, but that doesn't mean Kevin hasn't been very busy! Just like the past years, Kevin has been working on a fabulous ice-fantillusion show, taking place this weekend! For more information about the show, please visit their website at www.icefantillusion.com !
As a little preview, absoluteskating has been busy and put some articles up about the shows last year. Check them out here.
We hope to see you at the show !

**March 2010**
March 26, since we have seen it in a newspaper by now, we can consider it is not private information anymore and sadly have to inform you that Kevins grandfather passed away on Wednesday due to a heart attack. Our condoleances to Kevin and his family and may he rest in peace.
This knowledge will make it easier to understand for his fans what he has been going through.
On a brighter front, Jenna just skated her SP and skated an awesome clean program, earning her a 15th spot. Good luck in the free tomorrow Jenna!


March 26, Kevin skated an awesome long program today -yesterday by now-
He opened with a 4-3-3 which could as well be a Worlds first, followed by the triple axel. Making use of all his jump-passes he skated a great program and became our hero of the evening.
The new music fitted him well and the costume we think he used earlier this season (at his grand prix's) fitted perfectly to that. He was completely overwhelmed after the program, falling to his knees.
We are proud of you Kevin, what an amazing accomplishment!

He got 144.88 points for it and ranked 9th of the evening. Look for more detailed results here.
Overall he came in 8th place, those results you can find here.

You can watch a video of his performance here and share your thoughts here. The reactions all over, commentators, boards, Facebook etc were overwhelmingly positive and we hope Kevin can bask in that.

Photo copyright Daylife, and you can find more pictures here.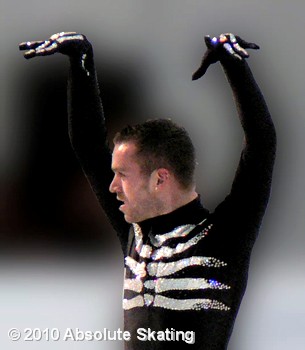 March 24, Kevin started off his short program with a very nice quad-3toe combination, then had a stumble on the triple Axel but jumped a nice and clean 3 flip with ease. Nicely fitting steps to the music and decent spins complemented the program. The judges marked it 73.55, a seasons best for Kevin and a 10th place in the rankings. Well done Kevin.
This was a real tough competition so far, with almost all men skating to their potential. Kevin is thus satisfied with the result.
Good luck tomorrow!
March 22, Behind the scenes we have been working very hard on the launch of the new site of Ice Fantillusion. So please look at the revamped site here: www.icefantillusion.com

Kevin has been working hard behind the scenes as well, not just on his shape and his quad, but also on a brand new long program for the World Championships! Which are this week;
Official site:
www.torino2010.org
Schedule and links to the starting orders: www.isuresults.com/results/wc2010/index.htm
Kevin will skate his SP on Wednesday and the LP on Thursday.
So enjoy the new program "Millennium Celebration" Thursday. Go Kevin!
**February 2010**
Feb 17, After a pretty uneven Men's freeskate Kevin finished 17th, just after Brian Joubert. Kevin's flying sit spin was awarded level 4 and he landed a clean 3 Salchow/3 toe in his Robin Hood program. Too bad he didn't earn extra points for fighting to the end and being a real trooper!
This was not his dreamskate, we all know that. Yet we really want to congratulate Kevin on his third Olympic appearance. There aren't that many skaters we made it to 3 in a row. And despite all the pressure and despite all the rivalry, Kevin put up a big fight, right until the end and showed us the heart and soul of a true sportsman. We thank you for that Kevin.
Belgium can be proud of such an amazing athlete!
Feb 16, Congratulations to Kevin who was phenomenal in the short program! On Night of a Bald Mountain , in his "old" skeleton costume, he nailed all his planned jumps: a beautiful triple flip-triple toe combination, triple axel and triple loop.
His overjoyed face afterwards was worth a million and the judges rewarded his clean performance with 72.90 points.
This was exactly what he hoped for, a clean skate. We are extremely proud of you Kevin and hope you can retain that form and show the world a great LP as well! :)
Kevin is currently in 12th place.
Feb 13, For those on our continent who did not stay up to watch the Opening Ceremony at night, those that happened to be out fetching a drink&snack, those for which work didn't allow it to watch the event live, as well as all others who just like to see it more than once, click here, for watching the Belgian delegation walk in, with Kevin in front carrying the flag.
Video courtesy of Titia, who is in Vancouver right now and you can follow her experiences here.
Let the games begin!!!
Feb 12, Despite some travel difficulties Kevin is still doing well and managed to set up an internet connection in Chicago. Tomorrow he will have to be in Vancouver though, because he will be the official flagbearer again! He never expected this, because he carried the flag in 2006, but feels very honoured.
Belgian article about it, with a nice accompanying picture, click here
Some practical info:
The short program will start on february 16 at 4.15PM local time; 1.15AM CET on Feb. 17. The long program will start at 5PM; 2AM CET on Feb. 19.
Website of the Olympic Games
Direct link to schedule and results
Eurosports page on OG
Direct link to Eurosports airing schedule
Cheer for Kevin here

Feb 8, Last weekend Kevin left with his team for the Olympic Games 2010 in Vancouver Canada. At the European Championships in Tallinn we had a long talk with him and he would really like to make one thing very clear.
He is not expecting a medal!
His goal for these Games are to go and deliver two good programs. What the result will be then is up to the judges. Of course he does have hopes for a top 10 place and preferably an improvement of his placement in the OG of 2006. Hopes, not goals.
Two good skates, Kevin style. That is what we sign up for as well.
Go Kevin, we support you all the way!

**January 2010**
January 21, Kevin finished in 11th place for the long program, and in 11th place as well overall. His long program is a brand new program, to the music of Robin Hood, with a brand new choreography and a new sparkly green costume. He didn't try the quad, but he wasn't planning on doing it either. He had a good skate, with only a few minor jump mistakes. He seemed happy at the end of his program.
Detailed results – Long Program
January 20, Kevin is currently in 11th place after the short program. He had some problems with the 3 Axel, but the rest of the jumps went great.
Detailed results – Short Program
Kevin will skate first of the second group in the long program tomorrow.
January 16, Kevin will be competing at the European Championships that will be going on from January 18 to 24, 2010, in Tallinn, Estonia. The short program is scheduled for Wednesday, January 20th, and the long program for Thursday, January 21st.
Results will be available on the ISU Results Page. You can also visit the Events Web site for more information. We will keep you updated.

**December 2009**
Dec 22, Not all children have been in school the past weeks, because they were in the hospital. To give these children a chance to have an unforgettable vacation, the Cliniclowns and Kevin will together skate with them. You can find them today on the icerink on the Kol. Dusartplein, in Hasselt Belgium, around 11 o'clock. Kevin cares deeply for this cause and will thus also be presented as their ambassador. For more information you can call 0475/567.375 (outside Belgium? Do not forget the international dialing code)
Dec 18, Jean-Marc Wachsmann mailed us the link of the very neat promo-video he made for the Olympics, of course featuring our Kevin. Check it out here!
Dec. 9, Kevin skated at the NWR trophy last weekend and finished 3rd behind Yannick Ponsero and Samuel Contesti. The total score for Kevin was 199.26 points.
In the SP, Kevin did all his elements wonderfully, especially the triple flip - triple toe combination received a lot of extra points. The total score for his SP was 70.61 points. In the long program he missed a couple of elements in the end, but the beginning was very nice with 2 triple axels. For the Long program he received 128.65 points. Full result details and protocols can be found here.

Congratulations on the bronze medal Kevin!
**November 2009**
Nov. 22, In the long program at skate Canada which took place yesterday Kevin started out really well with a triple axel (though the landing was a bit shaky) his trademark 3-3-3 (triple salchow, triple toe, triple toe) and a triple lutz. However at the end of the program he kind of ran out of steam and had troubles with 2 salchows and he singled an axel. Unfortunately for Kevin the good beginning was not enough to move up in the standings. He received 109.68 points for the LP and finished 11th with 168.54 points in total. Full result details can be found here.

Better next time Kevin! keep on working and believe in yourself!

Nov. 21, Kevin is skating at Skate Canada this weekend in Kitchener. The short program took place yesterday and Kevin is currently in 11th place with 58.86 points. He landed a triple lutz and a triple flip-triple toe combination but unfortunately singled his opening axel. Jeremy Abott is currently in first place with 79.00 points and Daisuke Takahashi is in 2nd place with 76.30 points. The long program is today at 16.00 local time or 22.00CET. Full result details can be found here. Good luck today Kevin!
**October 2009**
Oct 24, Today Kevin skated his brand new long program for the first time. Brand new, but familiair music; Pirates of the Caribbean!! Acting as a pirate again? That must be fun. We can't wait to see it in person. Look for a picture of his costume in this link here, but now back to competition itself. He performed a decent program, pulling himself 2 spots up in the general rankings, ending fifth. With such a new program!! Well done Kevin!

Oct 23, not much time has passed after TF but yet a lot changed for Kevin. Having left his coach Silvie and making a new Long Program in just mere days, he had to start at his first Grand Prix today. The Rostelecom Cup, formerly known as the Cup of Russia. He had to skate last, which he hates. His jumps went okay (Axel, triple Flip, Triple Lutz-Triple Toe combi) so yay for that. He is in 7th position now. Check out detailed results here.
Good luck in the (new) LP tomorrow Kevin, we'll be rooting for you!
Oct 17, things did not go as planned for Kevin in Finland. As you could read in the MB thread linked below, he did manage his triple Axel in the short program (with a turnover) but after that things went bad, missing out on the combination and doubled his lutz. His long program ended up in a drama, with him falling so hard on a jump, it was thought for a while he would quit, but trooper as he is, he managed to pull it together and end the program after all. Look for detailed results here. We hope this won't have any after effect on his condition!
In other news, today it was made public that Kevin decided to quit working with his coach of last year Silvie de Rijcke. At the moment training alone, he is looking into other possibilities. More soon!
Oct 6, Kevin will make his debut this season at the Finlandia Trophy in Vantaa, held this weekend (Jenna will be there too). Check for information on the event the official website here:
www.stll.fi/finlandia_trophy/
Celine Oreiller and Vera Alexandrova will be present for Absolute Skating and will do their best to report live, so check their impressions during the competition at Kevins messageboard here!
Good luck Kev & Jen!!
**June 2009**
June 3, Grand Prix assignments are out and Kevin has been assigned to Cup of Russia and Skate Canada! Cup of Russia will take place from October 29 untill November 1 in Moscow (changed in schedule now to the weekend before) and Skate Canada will be from November 19 untill the 22nd in Kitchener. More information can be found on the ISU website.
**April 2009**
26 April, There are already quite a few pictures from the ice-fantillusion shows up on Absolute skating! Check out the highlights from the shows here!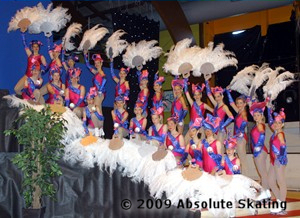 23 April, Liedekerke Belgium is this weekend really the place where you should be if you are a skating fan, if you love the movies, or are just in the mood for a good show. Rehearsal time is over and the skaters are ready for it. A bunch of schoolchildren from the area already had the privilege to see a preview of the show and so did we. As we nowadays do expect from Kevin and his wife Jenna, the Ice Fantillusion show is a real spectacle. From sinking boats to drunken sailors, seductive Can Can dancers to the real 007, it's all there and much much more. Got an afternoon or evening to spare?? Come and see, we promise you won't regret it!!

For more information on the show, check our Ice Fantillusion pages!
Mail Marleen de Gols for more information and tickets for Friday or Saturday at 19.30 and Sunday at 15.00.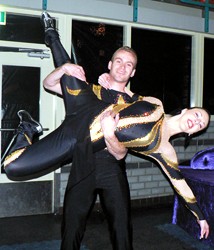 22 April, After a short vacation following the World Championships in Los Angeles, Kevin and his wife Jenna joined the Kids on Ice show in Eindhoven, The Netherlands, held on 3,4 and 5 April. European's biggest children ice-show as proven by the more than 250 children from the age of 3 till 18 years old joining!

A few hours after they landed on European soil, Kevin and Jenna performed in the Friday evening show, followed by the Saturday and the Sunday shows. All were a big succes. Interwoven in the story - a journey through Big Cities - Kevin skated three programs. Two times alone on the music "Fever" and a mixture of music from Safri Duo and one time paired up with his wife Jenna. Jenna herself skated a few solo's as well. Even though they were both pretty tired from traveling and having jet-lag, they both skated great and loved being there in a joyful and relaxed atmosphere!

Kids on Ice was very worth your while, an entertaining journey on ice in incredible costumes and choreographies by the many skaters and we will surely tell you more on Absolute Skating soon!
They had several new costumes, one of which they are proudly showing off in the photo to your left. These costumes were specifically made for Ice Fantillusion and fitted well in Kids on Ice as well. Do you want to see these and lots of other costumes - not to forget the skaters ;) - in the flesh? Join Kevin and Jenna and all the skaters of Heuvelkouter in Liederkerke for the fabulous Ice Fantillusion shows EXTRAVAGANZA!
For information and reservations contact marleen.degols@telenet.be marleen.degols@telenet.be
Don't miss it!! Your options are:

Friday 24 april 2009: 19.30
Saturday 25 april 2009: 19.30
Sunday 26 april 2009: 15.00

**March 2009**

27 March, Unfortunately Kevin was not able to climb up the standings at the world championships and ended up in 14th place with a total score of 198.35 points. Kevin did land a quad at the beginning of the LP and 4 other nice triples. Unfortunately he had some trouble with his Axels this time as he jumped them only double. Full result details and protocols can be found here.
26 March, Yesterday Kevin skated the short program at the World Championships. He jumped a beautiful triple axel and a triple loop, but doubled the flip in the combination and therefor lost a lot of points. The standard of the short program was really high and so Kevin is now in 14th place with 70.15 points. Full result details and the starting order for the long program today can be found here.
Fight back up Kevin!! we know you can do it!!
19 March, Congratulations to Kevin for winning the silver medal at the Challenge Cup in The Hague! Check out some pics, including a medal one here!

We want to remind you about the article in "Het Pajottenland" as written in last news entry. This will appear this week.
Next week (March 22-29) Kevin will participate in the Worlds Championships in Los Angeles. The official site you can find here.
Break a leg Kevin!! (but not really :p)
1 March, A little while back Titia had the opportunity -as previously told here- to witness a training for the Ice Fantillusion shows. Want to see what she has to say about that? Check out her article on Absolute Skating. Also, part 2 of that article beholds the AS-photo-album of the last show.

Another album of the same show with different photos you can find here, or in the list on the sites photogallery. The album is 14 pages long. Enjoy! :)

Take note that the whole Ice Fantillusion section has been revamped. Aside the current show information -with the most actual information we receive - it now contains a separate page concluding a presentation and all information for each past show. Enjoy!

Next week Kevin will compete at the Challenge Cup in The Hague. The schedule has been updated. Good luck Kevin.
Also keep an eye out for the sports-edition of "Het Pajottenland" of 19 March - "Sportief Pajottenland". This newspaper appears in whole Pajottenland & Groot-Ninove, Belgium and will contain a preview article for Worlds, featuring Kevin.
**January 2009**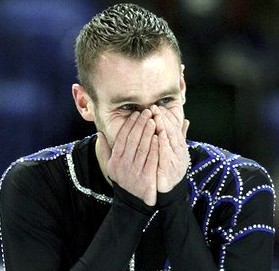 22 January, we congratulate Kevin with the win of his second bronze medal at the European Championships 2009!!
- Look for detailed results here
21 January, The European Championships in Helsinki are going on as we speak. Despite some rumours he might withdraw for returning hip-ache, Kevin skated his SP a little bit ago. He jumped 3 Axel, 3 Flip - 3 Toe and 3 Loop cleanly, got 75.80 points, improved his personal best with that and is in a 4h spot. YAY. Good luck for the LP tomorrow Kevin!
For more results click here.

Saturday January 3th several skaters of Ice Fantillusion had their first practice lead by Kevin and Jenna for the show Movie Extravanganza, which can be seen in April. Titia had the chance to visit and watched a perfomance fitting to the theme Moulin Rouge. Despite it being the first practice it looked really great and professional. Awesome music and a perfectly fitting choreography. As we gotten used to from Ice Fantillusion. That promises much for April!
For more on the show, visit our Ice Fantillusion page, or the newly made site IceFantillusion.com!

**October 2008**

27 November, After having had some server issues we are back online.
Past weekend Kevin skated in Cup of Russia, and reached with 69.68 for his SP and 129.45 for his LP a 6th place. Considering the late training start for this competition, he did very well. Good job Kevin!
For more details, check here
3 November, Today Kevin has put his first steps on the ice.

After the prescribed resting period for his injury that is, of course. He did have a torn muscle in his back, which was more serious as initially deemed after Finlandia. The doctors prescribed 4 weeks rest, no training whatsoever. He now has rested 3 weeks and feels no pain at all anymore, that combined with being bored and wanting to be ready for his next Grand Prix (Cup of Russia) he decided to do a small try-out today. And it went well, he did a run through of his SP, all clean. Of course he can't say yet if he will be ready in time for CoR, but for sure he's gonna try. Much succes with that Kevin!

Next to that, the preparations for the Ice Fantillusion shows in April are in full process and he is very proud of the Skate Canada accomplishments of his wife Jenna.
21 October, It has appeared in many news magazines like >>this<< that Kevin is withdrawing from Skate America due to his injury of last week in Finland. At first it seemed rather harmless, but now it appears to be a torn muscle.
We are sorry to hear Kevin and wish you a speedy recovery.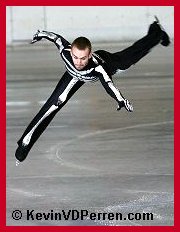 14 October, Kevin finished in a 6th place at the short program at the Finlandia Trophy with 63.68 points. - Check for more detailed scoring >>here<< -
Unfortunately during the practice for the free program he got lumbago (low back pain) and decided it was better to withdraw from the competition.
He hopes it will be okay again in time for Skate America, 23-26 October. And of course so do we! Best wishes Kevin!
Btw, atm you can check out this Finlandia SP on Youtube >>here<<
October 8, Last week during an event organised by Damart in Liederkerke, the home of his iceclub Heuvelkouter, Kevin premiered his new short program. Rumours of an interesting costume got definetly confirmed as you can see here. ;)

The reason why Kevin chose to show his short program then and there for the first time, is because the fashion brand Damart and he decided to join forces in a Sponsorship/Partnership. We are very happy for both.
That was not the only premiere though, this weekend, 9 - 12 October, will be Kevins first competition of the season. Finlandia Trophy, in Helsinki. Check out their site for more details during the weekend. We wish you a good kick off of the season Kevin!
**June 2008**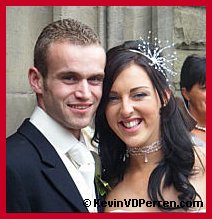 June 30, Regarding Kevins decision to leave Vera Vandecaveye after 5 years of training with her, to go to Silvie de Rijcke, Kevin explains that the past year he has been thinking about/wanting to leave because of personal as well as professional reasons. He plans to disclose more about this later, in full detail.
Right now a decision really needed to be made and he feels, that despite not always having taken the best decisions in his career, this one certainly is the best he ever made and he is extremely happy he finally cut the knot.
A skating camp was planned this August in Belfast, Ireland, which has been recently cancelled. Kevin explains that this is also due to the situation surrounding his coach. "Jenna and I would have done anything to let the skating camp go through in whatever form or arrangements made, but unfortunately that didn't seem possible. We regret this dearly, especially towards the children that were looking forward to it very much. It certainly doesn't have anything to do with our whishes."
A shame indeed.
We wish him more luck and peace with his new coach.
June 29, We received the pics of the wedding and the honeymoon and these you can find in the photo album. Having had a great time, the couple is finally home and settling in, tho they have to leave for a show in Italy next weekend again.
Kevin was happy to tell us his training is going well, better than scheduled even. As reported in several media, his operation did turn out to be more complicated and took longer, thus prolonging his rehabilitation, but he's making fast progress and can start practicing on the quads again next week.
He has switched coaches, from now on he will train with Silvie de Rijcke. The music for his new short program is selected and will be Night on a Bald Mountain, the choreography is yet to be made. For his long program he intends to keep the Safri Duo one he skated at Worlds, but amended. He's happy with the Grand Prix's assignments he received, and next to that he intends to do the Ondrej Nepala Memorial in Bratislava and would he be invited he'd like to do the Finlandia Trophy. As you can tell, the schedule is updated, as well as the profile and the program pages.
We also added content details on the Ice Fantillusion shows, that were rescheduled from December to April, as we announced in March.

Happy browsing on the new bits, and we keep you updated when we learn more!

**May 2008**
May 25, As most fans know, last week, May 17, Kevin and Jenna got married!
Unfortunately something went wrong with sending pictures our way, luckily Jenna got a lot of cute ones on her site. Check them out here! Some more pictures can be found here.

Congratulations to the obviously very happy couple!

Check back with us for the promised pics sometime after their honeymoon has ended and of course for other updates in the meantime!

**March 2008**

March 22, Today Kevin skated his new great LP on Safri Duo. He dug up his old SP from the seasons 2004/2005 & 2005/2006 on the same music and extended it, added bits and pieces of music to the original mix and fitted the program to it.
The old theme used to be "getting lost in a computergame frantically searching for the exit". Searching for 2.40 or a little longer, doesn't matter all that much now, does it?? - well perhaps for the poor lost one - Especially not if it's Kevin doing the moves. - can we just say the longer the better? -

He skated an absolutely awesome program which:
* brought down the house
* made everybody including himself ecstatic
* was the third best of the day
* received the second best technical score
And with that program he completely smashed his old personal best with +7 points to 145.78.
How can we not say well done Kevin??!!

He climbed up from 9th to 6th place, his best standing in the World Champs ever. Kevin, we are proud of you!




Click on the links for detailed results of the free skate and the end results.


March 22, Yesterday Kevin skated a clean short program (he choose to not attempt a quad) and gained a new personal best of 70.24 points for that, which landed him in 9th place. Congratulations Kevin! >>Check here for more detailed results<<
Today the excitement will continue, with the long program, the deciding finale, in which Kevin will skate as 15th. >>click here for startorders<< We hope it will be a competition just as great as yesterday and are praying to the skategods for Kevin, who will skate his new LP, YAY!
March 20, Kevin is as we speak currently in Sweden, to participate in the World Championships in Göteborg. Tomorrow, March 21, the short program for the men will take place, and Kevin has drawn the very last starting number. We are thrilled to see him skating with the cremé de la cremé and wish him lots of luck!
Oh, an additional tidbit of news, the data for the Ice Fantillusion shows have been moved to April 24, 25 en 26, 2009 with a natural change of theme as well. More on that later tho!!
Keep your fingers crossed for Kevin tomorrow and Saturday!
March 3, after returning from Croatia, Kevin calmly started working on changing his long program, as he had told us in Zagreb he would. He wasn't unhappy with the results of the EC, in these circumstances it's how things went, but he was trixing with it, in order to get completely satisfied. What we didn't expect was, that he'd change it entirely and surprisingly he just told us he did, it will be completely Safri Duo! We are very excited to see what he made of it!
We are happy to tell you that, just like past shows, there is a DVD available of the 2007 Ice Fantillusion Christmas show. If you are interested, contact Marleen de Gols for ordering details, or if you come from Belgium, check out the instructions on the messageboard.
The dates for the new Ice Fantillusion shows are known, and will be 19-20-21 December 2008.
If you can't make it to the World Championships in Sweden, you got another chance to see Kevin skating live, in the Gala International de Jambes on March 30.

Furthermore we have added some article links to the Dutch section of the page, and of course amended the programs & schedulepages. This link we didn't add to the articles, since it's not really about Kevin, it's fun though!

**February 2008****

February 5, Kevin finished 5th at the 2008 European Championships, with a total score of 199.57. He was 4th after the short program, with a score of 66.33. He ranked 5th in the free skate, with a score of 133.24.

**Januari 2008**

January 19, Next up is for Kevin to attend at the European Championchips in Zagreb the following week, you can read the competition schedule here.
Most of our webcrew will be there to cheer Kevin on so news updates can be a bit scarce during Euros although nice Caroline Pare has offered to keep the site updated, so we will try to get some news to you anyway. To be sure, just keep an eye on Kevins MB for the latest news.

We feel much exited to be there and see it in all its glory in person and we wish Kevin (and of course, Jenna) good luck and skating bliss. To not keep you from total lack of Kevin during, we´re happy to announce we have the promised detailed article from his Christmas show with pictures and vids published on Absolute Skating here. Of course the videos featuring Kevin are also on the video page on this site.

We have also updated the articles page here with a few new articles, Flemish as well as English links (check out the cute pics in the Ice Bowl one!) and added on the welcome page a sitemap for easier browsing for the ones with smaller screens.
Januari 17, Right before Christmas, on Friday 21 and Saturday the 22th of December, Kevins fans have been spoiled with yet again another magnificient edition of the show Ice Fantillusion, "Christmas Wishes" it was this time. The show was different from what we are used to, but not less great because of that! This time no stories about cartoon figures who reanimate all kinds of adventures, but a show with individual and groupacts, based on of course Christmas, togetherness, love and caring for each other. Despite the relatively short rehearsal period it was an amazing show. The choreography was original and captivating and the music was funky and feel-good. The skaters themselves had a visibly good time!! Amazed about the fact that Kevins shows touches us every time again and invokes soo much positive feelings, we went home and we are still enjoying the afterglow of this event.

A detailed report of this will follow soon on Absolute Skating, as well as photo-albums both there and here. We will keep you posted about that, but we don't want to leave it just like this right now. Have a look at our scene impressions of the show –courtesy of the incredible Manda- just click the images to see a larger pic. This will open in a new window, where you can save it - or rightclick save target as, if you want to download them to your pc immediately.
Act 1
| | | | | |
| --- | --- | --- | --- | --- |
| Magical Christmas | The Golden Sixties | Toy Story | Winter Wonderland | Koffie & Gebak |
| | | | | |
Special Guest Stars: Staf & Dean!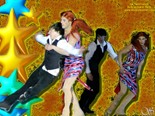 Act 2
| | | | |
| --- | --- | --- | --- |
| Once Upon a December | Swinging Christmas | Romantic Christmas | Partytime! |
| | | | |
Furthermore, there have been some concerns wandering around on internet about Kevins health. Things stand like this; at the end of the year, Kevin had some thorough exams, to determine why his backinjury keeps returning. The results are that it's coming from the hip caused by a fall at NHK Trophy in 2005, instead of the back like previously assumed. This means that the backache won't pass completely until the problem in the hip is resolved. At this moment, both problems are under medical care, so Kevin can continue his season as planned. He will have surgery after the season ends, for a more permanent solution.
He was not happy with this being in the news, he would rather have kept things private and it's not like this momentarily changes much to his immediate plans. We want to thank Kevin for explaining this for his fans, and wish him the most easy dealing with it as possible!

**December 2007**

December 20, As Kevins fans undoubtly know by now, the yearly Ice Fantillusion shows have this year been moved to December 20 and 21 and are called "Christmas Wishes". Having checked out the scene and the dress rehearsal yesterday, all we can say is "wow". The audience is in for quite a surprise!!
Check out the Ice Fantillusion page for more info on IF, and to keep updated with happenings in Liederkerke, check this thread on the mb. We'll have fun!

December 16, Kevin skated the Free Program yesterday and received 116.69 points for that, placing him 6th for the LP and 6th overall. As you can see compared to other season scores, this is not his best. Things didn't go so well, he fell hard on the Quad, doubled the Axel and made several other (minor) mistakes as well. Check out the Judges Scores here (PDF file) for specific details. This was caused by hurting his back in the fall, and he limped a little going off the ice.
Reports came from Torino that he was reeled off by ambulance, but we received these words from Jenna -his fiancee- "he is absolutely fine, he hurt his back a little but they over exaggerated it so much and took him to hospital, theres no problem and no need to worry, everything is ok!!!"

So we are pretty relieved to hear that. 6th place in the Grand Prix Finals is by no means a meagre achievement, so hereby we do want to congratulate Kevin and of course wish him all the best for a speedy recovery!!

December 14, The Grand Prix Finale takes place this weekend and Kevin has just skated his Short Program with 4T-3T combination, 3A and 3Lz, PERFECTLY CLEAN! He recieved a score of 72.83 for it, which is his seasons best. With that he is in a 5th position. We are proud of you Kevin and wish you the best for tomorrows LP!

On the other side of the coin, he did not make the final selection for sportsman of the year he was nominated for, as mentioned below. Awww.

December 3, In the past weekend the last Grand Prix, NHK Trophy has been completed and with the results there we can happily announce that Kevin has made it to the top 6 and will be invited to the Grand Prix Finals that will take place December 13-17th in Torino Italy. You can check the unofficial list to who will be invited here.
Kevin was very happy to hear he made the 6th spot after all. In the back of his mind he had taken the option into account and adjusted his training schedule to it. Despite having been sick and only able to fully return to the ice 2 weeks ago, he feels like he´s in shape and well prepared "I am gonna try to do 2 quads in the free, but everything else stays the same…" And after asking what he expects he claims "I will try to skate as good as possible and then see how far I get. After all participating is more important than winning." Spoken like a true sportsman! And to that he had a good laugh.
Aside that news, he confirmed he will be skating in Kids on Ice in December, he thinks they'll be in December 29 & 30th. He's busy busy busy with the Ice Fantillusion Christmas shows and already admitted it's not gonna be as small as initially planned after all. (who would have guessed? :P)
We wish Kevin lots of good fortune with training, preparations for all the shows, the upcoming competition, and a great December in general!
Also check out this article on Kevin, by JB Mittan on Skate Today!
**November 2007**
November 26, Ever since Kevin got out of the plane from Canada, he's been suffering from sinusitus. Even more so the accomplishment that he achieved that 4th place at TEB in France, since he was still on a high fever then. It is the reason tho why he decided not to try the quad in either of his programs. Last weekend Belgian Nationals took place and Kevin, still being sick decided not to compete, but was there to be supportive of the event, as you can see in a nice –Flemish- article here (well mostly in the photo)
We hope you recover soon Kevin!!
Also this weekend was Cup of Russia, and with that there is an update on the Grand Prix Finals placements. Stephane Lambiel (#2) and Johnny Weir (#1) gained enough points to move ahead of Kevin in the list, making him 5th now. This means, only one other skater may get in between, for Kevin to be one of the top 6 scoring skaters and be immediately invited to the Finals.
Skaters competing at the next (and decisive) competition that still have a shot to place above or tie with Kevin are:
*Sergei Davydov - needs at least #2 at NHK
*Stephen Carriere - needs at least #2 at NHK
*Daisuke Takahashi – needs at least #5 at NHK
And newly added because his last 2 assigned competitions were CoR and NHK is Andrei Griazev. He will need at least #3 spot at NHK.
If any of these skaters end up in a tie with Kevin, additional criteria will get taken into consideration to determine in which order they will be placed.
We will again keep you updated on the issue.
On November 19th it got announced that Kevin is nominated for sportsman of the year (Sportgala 2007). Sunday december 16th the winners will be announced. Congratulations and good luck Kevin!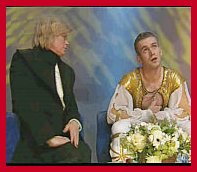 November 17, With a score of 70.60 for his Short Program (3th position) and 134.15 for his Long, Kevin came 2.36 points short of a 3th place at the TEB in Paris. He skipped the quad in his long program, but did land a clean triple Axel in the long, after doubling that one in the short program. For more detailed results, check the protocols of the SP here and the LP here.
Patrick Chan, Sergei Voronov and Alban Preaubert won the medals, Kevin gained a 4th place. Congrats guys!
A Flemish news-article on TEB with a nice photo is added to the article page.

With this competition ended and the points gained counted up, Kevin is third in the Grand Prix Finals placements. The top 6 will be invited to compete in the Grand Prix Finale in Torino Italy. Of course with still 2 Grand Prixs -NHK and CoR- to go, this is not a final result. A quick (and hopefully correct) calculation leads us to conclude that at this moment there are 6 guys that still have assigned competitions and could potentially collect more points -or tie- with Kevin. These are:
*Sergei Davydov - needs at least #2 at NHK
*Stephen Carriere - needs at least #2 at NHK
*Stephane Lambiel – needs at least #3 at CoR
*Jeffrey Buttle – needs at least #3 at CoR
*Daisuke Takahashi – needs at least #5 at NHK
*Johnny Weir – needs at least #5 at CoR
We will keep you posted on any developments in this matter.

November 15, New photo album "Italian Tour 2007", check it out here. We wish Kevin a great weekend at Trophée Eric Bompard Cachemire in Paris, France and are keeping our fingers crossed!
November 6, 2 Flemish and one English link added to the Articles page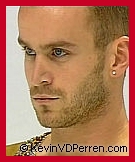 November 4, Kevin just won the silver medal at Skate Canada! He was 5th after the SP with a score of 66.11, but he managed to WIN the Free Skate, with 136.44 points, with 0.87 points more than Brian Joubert, however Brian had enough lead on the SP to maintain in first position overall. We are pleased to report he landed the quad Toeloop and triple Axel. Well done Kevin!
Reuters News with a photo
• Articles updated with 2 new ones from Ice Network

November 2, time for the new site to launch!! Message from Kevin: "Welcome to this new site. The old was in need of some renewal and I think we have succeeded. Have fun!!"
We wish the same as Kevin and hope you enjoy the site we created in a joined effort with him (and Jenna). Do you have any comments or requests, feel free to mail us here! We'd like to extend a special thanks to Anette & Daphne without whom this project would not have been realised and to Ioana & Manda for their continuing support.
Have fun browsing, and 'Toi Toi Toi' to Kevin in Canada!! ~ Mireille & Titia
November 1, Icenetwork keeps up with the practices in Canada. Read a very nice part about Kevin jumping quads, including a short quote here
**October 2007**

October 30, Kevin left Belgium to compete in Skate Canada later this week.
October 11 - 14, Kevin competed at the Finlandia Trophy. Unfortunately in practice a part of the toepick on Kevin's right skate got damaged due to a collision with Anton Kovalevski which needed to be fixed by the skate sharpener. This led to the blade feeling different. Despite that, with a score of 52.98 for his short porgram (placed sixth) and 115.66 for the long program (third place) he wins the bronze medal.
The judges weren't real enthusiastic about the short program on Safri Duo, so he changed it and now skates to Xotica.

**September 2007**

September 20 - 22, Kevin competed at the Ondrej Nepela Memorial in Bratislava Slovakia. With a score of 56.25 for his short progam (placed second) and 109.46 for his long program he wins the competition. Congratulations Kevin! For detailed results check >>here<<
Kevin announces his short program music to be on the track Heartbeat by Safri Duo, a theme that will return in his costume as well as in his choreography. He proudly showed us his Long Program costume >>link to pic<< which will be on the soundtrack on Lawrence of Arabia. He realises he has tried this before and then midseason changed his mind, something didn't feel right back then, but since he really likes the music, he decided to give it another go this season.
**August 2007**

After skating in the Italian tour (picture below) together with his fiancee Jenna McCorkel Kevin returned home and resumed his regular training.