Kevin Van Der Perren, competitive figure skater and twice winner of the European bronze medal had a dream. Yes, of winning in figure skating, but that wasn't all. In his mind was an image, an image of creating "theater on the ice".
Enacting stories on ice which would engage the audience, to make people not just watch the story, but relive it, aided by music and sounds, dialogue and enacting, costumes and props, decor and lights, skating and dancing, nothing being held back.
In his mind Ice Fantillusion was already born.
By, together with his family and wife Jenna McCorkell, becoming more involved in the organisation of the annual clubgala of KSC Heuvelkouter - Kevins homeclub - the shows began to shape into his desired form.
Having realised several succesful shows in cooperation with KSC Heuvelkouter, Ice Fantillusion became reality.
Six completely sold shows succesfully under his belt, plans for future shows are being made constantly.
Ice Fantillusion 2014: Magical
Let Kevin and Jenna take you into the world of dreams. A young girl falls asleep and magically everything comes to live. From pirateships to mermaids, to a street carnival and a dance. But then oh no, it turns into a nightmare. Insects, witches, curses and a fire spitting dragon!! But no worries, her knight in shining armor will rescue her for certain.......right?
Come to find out and experience the magic!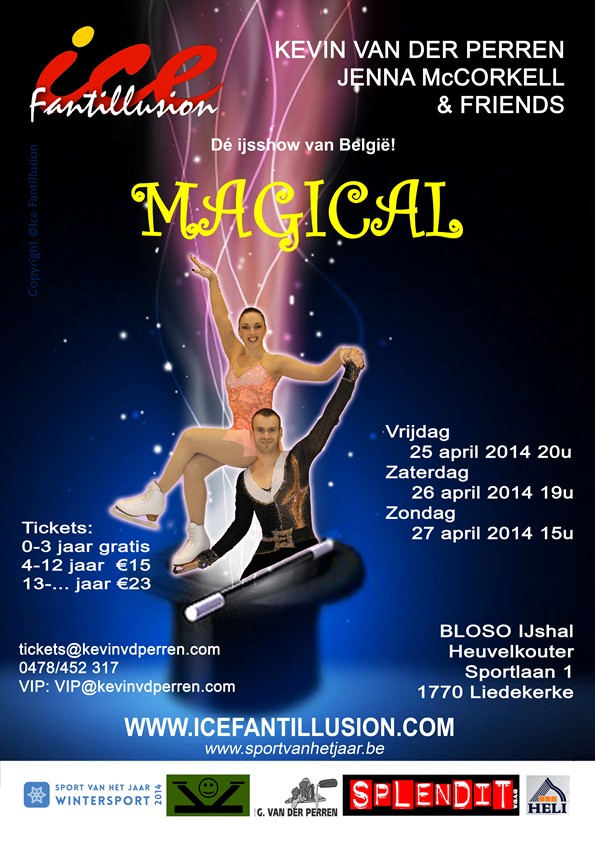 Friday 25 april 2014, 20.00
Saturday 26 april 2014, 19.00
Sunday 27 april 2014, 15.00
For more information check out the official site:
For info and imagery of the latest show, check out Absolute Skating's article + sneak peek here:

Heroes in the Jungle
Ice Fantillusion in the Jungle - A sneak peek
Want to see more proof? Check out the older shows here!
So if you want to see a real different skating show, that captures Kevins vivid fantasy in a nutshell, come and see...........
because you really don´t want to miss it!