Ice-Fantillusion 2007: Christmas Wishes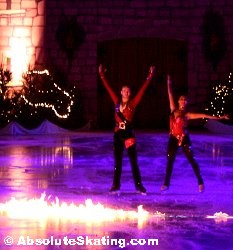 Right before Christmas, on Friday 21 and Saturday the 22th of December, Kevins fans have been spoiled with yet again another magnificient edition of the show Ice Fantillusion. "Christmas Wishes" it was this time.
This show starts out all in the dark, lights appearing on the ice carried by skaters, slowly all the Christmas lights get turned on, twinkling everywhere, even the ice gets a little fired up and all that turns into a beautiful program picturing a Magical Christmas.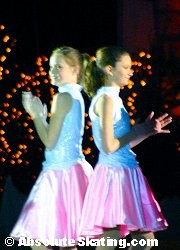 From that on it moved on to fun and glitter; The Golden Sixties. Lollipop girls and locomotion interchange with Grease. A balletgroup appear on the ice doing a version of Danny and Sandy, followed by a skated version from Grease as well.

Toys have the habit of coming alive in the Christmas period, which leads over to Toy Story with Toy Soldiers, a cute Barbie girl with her Ken, a Quidam and a Puppet on a String that looked as there were no strings attached.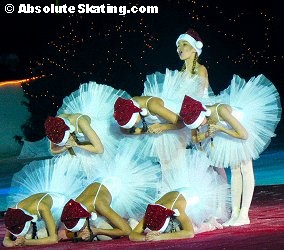 Let it snow, let it snow, let it snow, yeah it moved on to Winter Wonderland picturing an unstable Bambi on ice and snowmen looking on. A too cute for words program from a dance group on Jingle Bells, followed by programs on 'Have yourself a merry little Christmas', 'Music was his first love and will be his last' (John Miles) and 'Frozen'.
A fun group program closes this theme and leads to a guest performance, Idols and Dancing on Ice winner Dean skating with 'ms' Staf Coppens.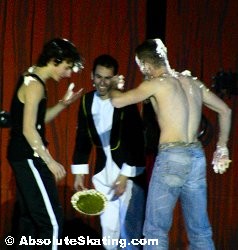 Next up comes the 'surprise' Koffie en Gebak, which means coffee and pie, picturing an innocent scene with girls skating on the music Candyman. Soon it turns into showing male skaters shirtless on a wild piethrowing contest making quite a mess with the pies.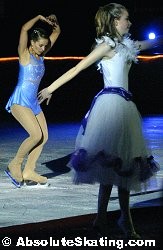 Next up the audience gets thrown into the cold December mood, by an aesthetic pair showing a dance perfomance followed by the dancegroup "Ballerino" on the beautiful 'Once Upon a December' for another nice program, this time combined with the elegance of girl skating around the carpet.

The only way to get less cold is to start moving, so on to Swinging Christmas, a 'Pretty Woman' appears on the ice and after showing that she certainly has what it takes, she takes a seat to enjoy the male pretty that's about to come on the ice.
One cool skateperformance, completed with a mock imitation of Evgeny Plushenko's 'Sexbomb'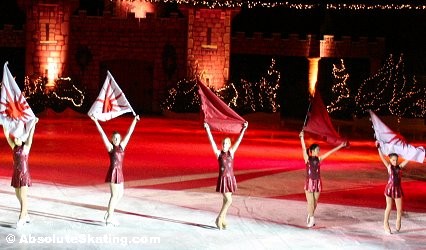 competes with an almost soppy romantic skater showing on 'Only You' he wants only her. That touches the pretty girls heart and after pushing the cool skater off the ice, chosing the romantic one, they together skate on 'Time of their lives' from 'Dirty dancing'. Funky jazz explodes after closing this theme.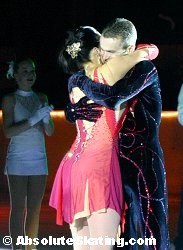 Here it change from swinging to Romantic Christmas, all the competitive skaters join up to kick this theme off with 'Owner of the lonely heart' really bringing in the romantic mood, which suits perfectly for the 'red' theme that followed. A gorgeous program on 'Lady in Red', then a Dutch song called 'Rood' (Marco Borsato) and then the group dressed in red forms a flag parade, ending with a couple skating to 'Time to say Goodbye'.

Of course it is not, how can a show like this end without Partytime!? Showing fire and fun tricks, the skaters really get the audience going here.
Then there is "Let me Bongo you" by Safri Duo, Short Program used by Kevin in competitions for some time, combined with a Robbie Williams song. The steps got adjusted for the entire group to skate, and altho it was not as easy for all to execute as for Kevin himself, this was a really enjoyable sight.
After this the entire cast joins again, to say goodbye, wishing everyone a Merry Christmas. The whole show is wrapped up by the skaters having so much fun on the terribly catchy tune by Shakin' Stevens.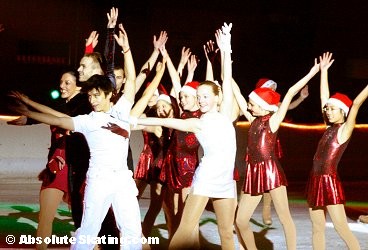 The choreography was original and fun and the music was funky and feel-good. The skaters themselves had a visibly good time and the same can be said about the audience. Everybody went home basked in the positive Christmas vibrations.

As usual a DVD can be bought, mail Marleen de Gols for details.
Watch more pics here:
Album on Kevins Homepage
Album on Absolute Skating

Check out these scene impressions:
Act 1
| | | | |
| --- | --- | --- | --- |
| Magical Christmas | The Golden Sixties | Toy Story | Winter Wonderland |
| | | | |
| | |
| --- | --- |
| Koffie & Gebak | Special Guest Stars: Staf & Dean! |
| | |
Act 2
| | | | |
| --- | --- | --- | --- |
| Once Upon a December | Swinging Christmas | Romantic Christmas | Partytime! |
| | | | |
Read more online about the show:
All I want for Christmas is... Kevin and Jenna?
And watch some clips here:

Ice Fantillusion 2007: Christmas Wishes - Let me Bongo you
Ice Fantillusion 2007: Christmas Wishes - Time of my Life


Ice Fantillusion 2007: Christmas Wishes - Koffie & Gebak
Ice Fantillusion 2007: Christmas Wishes - Part MC
Go to Ice Fantillusion main page

KevinvdPerren.com